ABOUT
"Good teachers are relentlessly hopeful about the future."
Lifelong learner Anne MacLean talks about teaching, expecting the unexpected and spending lots of time with kids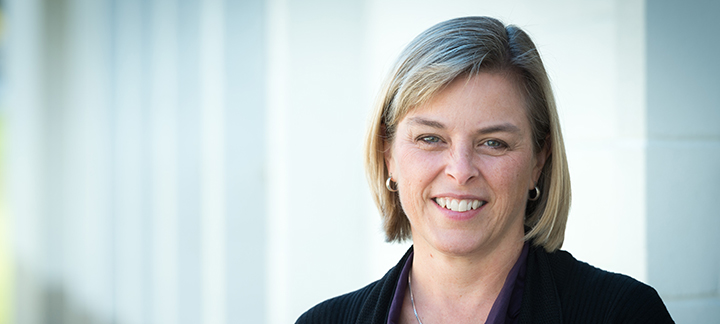 AS MUCH AS YOU PLAN, you never know what the day will bring, says Anne MacLean.
"If you have a positive attitude, most surprises are delightful and you find the humour or possibilities in them." Why Education?
After teaching for 25 years, it's almost shocking that MacLean can still be surprised.
As Coordinator of School Experience in the Faculty of Education at UBC Okanagan, she helps provide opportunities for teacher candidates that enable them to transform into responsive teachers ready to tackle the surprises she tells them to expect on a daily basis.
It's a part of the job she loves.
"I get to see the transformation," says MacLean. "At the end of the program I see the passion and the excitement and the humility that comes from teacher candidates working with students and experiencing the learning. It's incredible."
After graduating from UBC's Special Education program, Anne was a classroom and Learning Assistance teacher in Winnipeg, Langley and Kelowna before taking up her position as School Experience Coordinator at UBC Okanagan.
The move to higher education was an exciting one for MacLean, whose motivation to pursue education involves mentorship.
"I love seeing people become their best," she says. "I became a teacher because I want to encourage and facilitate this journey."
WE'RE BETTER TOGETHER
Along with her work with teacher candidates, MacLean has been a part of the planning committee for the redesign of the Bachelor of Education (BEd) program.* She says the program shift is necessary given the rapidly changing landscape of education in Canada.
"We are reimagining teacher identity and purpose," says MacLean. "The renewed program has an intentional primary focus on learners, the learning journey, and the vital relationship between students and teachers. Curriculum is important—it supports and enables learning—but it isn't the focal point."
As a Special Education teacher, Anne has seen teaching practices evolve from being isolated and independent to more collaborative and team-oriented. It is a welcome and necessary change.
"We are all better together," she says.
"Teaching is a team enterprise. The more we can support one another and share our work, the better we'll be, and our students will have a better chance for success both in and beyond the classroom."
Collaborative teaching is a growing trend in Canada, and a significant feature of the renewed BEd program.
SPEND TIME WITH KIDS
"If you think you want to be a teacher, the best thing you can do is spend lots of time with kids and begin to consider whether this is a context in which you flourish or flounder,"MacLean says.
"Also, if you don't love learning you won't be able to inspire your students to love learning."
Having a deep commitment to the well-being of young learners and a personal passion for lifelong learning are two of the fundamental qualities of a great teacher, she says.
"Good teachers will always be curious students, first, and passionate teachers, second.
"They love to hang out with people who also love learning, who believe in significance of their work, are committed to creating opportunities for learners to be, and become, their best.
"And they're relentlessly hopeful about the future."
—by Jill Dickau