ABOUT
"We are always debating. It is politics, after all."
Political scientist Carey Doberstein shows students the human side of politics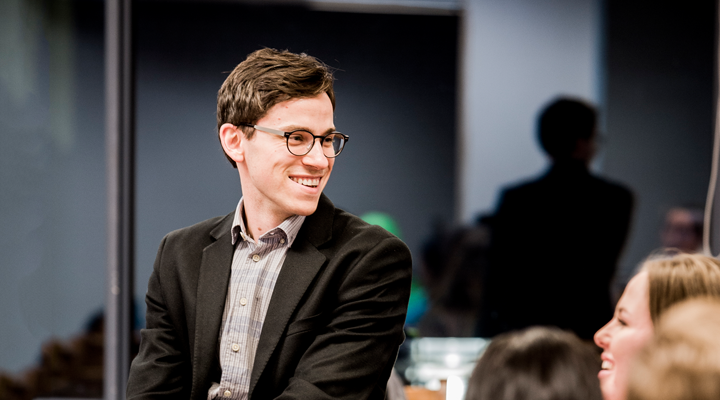 CAREY DOBERSTEIN DOESN'T EQUIVOCATE when it comes to his work: "I became a professor simply because it's the best job in the world," he says. Why Philosophy, Politics, and Economics?
"Everyday, I get to be part of an institution that fosters a culture of intellectual debate and exchange.
"I also stress to students that in academic settings, we must move beyond mere description of social and political phenomenon, and instead move toward analysis and criticism and reform. And, most importantly, that we take seriously the arguments with which we might disagree."
Doberstein doesn't shy away from student views, be they arguments with which he might disagree—so his classes can get animated.
"We are always debating. It is politics, after all."
COMMUNITY IN THE CLASSROOM
Doberstein knows that political concepts such as the Principle of Responsible Government can seem abstract for students. That's why the Assistant Professor of Political Science brings real politicians into his classes, to tell personal stories that connect theory to action.
During the last Kelowna election, Doberstein invited eight City Council members to interact with students in one of his poli-sci undergraduate classes. "Students read about arcane concepts like the Principle of Responsible Government, justice and equality, but elected officials and political decision makers can really bring these concepts to life," he says.
"It's so illuminating for a student to see the human-side of a politician who can use personal anecdotes and real-life scenarios to connect theory to action. It can be a really powerful experience and brings more texture to the material we talk about in class."
When Doberstein was a public policy student, a number of high-profile guests visited his class, including Michael Ignatieff, former leader of the Liberal Party of Canada, and Alex Himelfarb, the former chief civil servant of the federal government.
"The visits really brought politics to life for me," he says. "I try to recreate this for my students."
SOCIAL ISSUES & ECONOMIC DISPARITIES
Politics was always a passion for Doberstein, though it wasn't until he was nearing the end of his undergraduate degree that he realized it would be something he would follow into a career. He began his studies in chemistry, and diverged into sociology in his final undergraduate year, graduating with a Bachelor of Science in Chemistry and Sociology.
"I found that I wasn't always interested in the lecture during my chemistry classes, but I always seemed to have a copy of the New York Times on my desk," he says. "I started to see a disconnect between what I was studying and what I was most interested in—politics and public policy.
"As a human and as a citizen, I was motivated by social justice, social issues and economic disparities."
HOW CITIES MANAGE HOMELESSNESS
Doberstein is currently working on a book with UBC Press on the issue of homelessness, which he sees as not only a personal issue faced by vulnerable individuals or public health issue, but as principally a governance issue, centred on the distribution of resources in society.
The material for the book grows out of his PhD dissertation, which examined the issue of homelessness in Vancouver and Toronto. He has added a study of Calgary to expand the material and test and validate his findings from the earlier study. The book examines how governance networks made of representatives from public health, mental health, shelter providers, and other diverse perspectives can drive change and affect outcomes in how cities manage homelessness.
RESEARCH FINDINGS
During his time researching homelessness, Doberstein used participant observation to see how these homelessness governance networks worked in practice. He noticed that bureaucrats and members of governance networks made up of civil society actors often interpreted the policy problem and desired solutions differently. They made different decisions based on the same choices in front of them, thus demonstrating that governance networks indeed "matter" to homelessness policymaking compared to traditional decision making in bureaucracies.
For his next project, Doberstein has received funding through a Hampton Research Grant Award to conduct a political science experiment that will help him identify how different policy actors (e.g. citizens, journalists, bureaucrats and elected officials) perceive different types of public policy research, whether from academic sources, think tanks or research NGOs.
Using research from a number of issue areas, such as minimum wage, resource development, childcare, and tax policy, he will investigate how the source and content of research shapes perceptions of the value, credibility and legitimacy of research findings. With assistance from a PhD Candidate, the study will include a pilot run using UBC Okanagan students as volunteer subjects.