ABOUT
Name
Cigdem Eskicioglu
Role
Associate Professor
Program
Civil Engineering
School
Engineering
Faculty
Applied Science
Campus
Okanagan (Kelowna, BC)
Education
PhD (Environmental Engineering), University of Ottawa

PhD (Environmental Engineering) University of Ottawa

BSc (Environmental Engineering) Istanbul Tech U
Hometown
Istanbul, Turkey
"My interest in environmental issues came from my own firsthand experiences with traffic jams and lack of clean water and air, which most of us here in Canada take for granted."
Civil engineering researcher Cigdem Eskicioglu explores solutions to environmental pollutants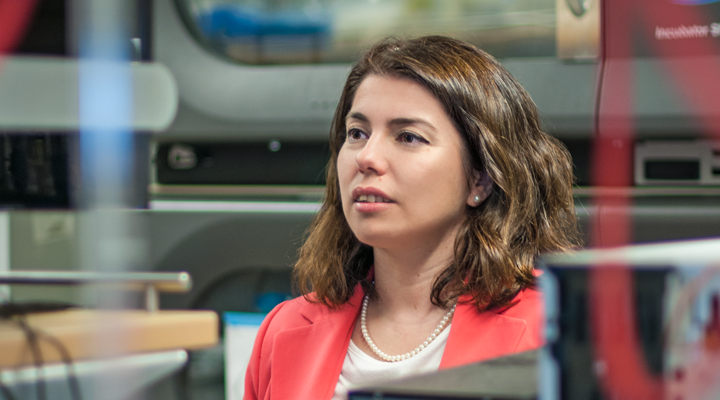 BORN IN TURKEY, Cigdem Eskicioglu spent 10 years in Istanbul, one of the most beautiful, historical metropolitan cities in the world. But it's a city that also has vast environmental concerns. Why Civil Engineering?
"My interest in environmental issues came from my own first-hand experiences with traffic jams and lack of clean water and air, which most of us here in Canada take for granted," says Eskicioglu.
She witnessed the consequences of migration, population growth, deforestation, slow development of public transportation, and industrial air and wastewater pollution from power plants, metallurgy, cement, sugar, leather processing, and textile factories.
RESEARCH FOCUS 
Eskicioglu made it her mission to make a difference: "I am passionate about discovering knowledge in the laboratory and sharing it in the classroom," she says.
"I hope to help graduate and undergraduate students understand that it takes very little effort to contaminate the environment, and a tremendous amount of time, effort, innovative technology and resources to make it safe again."
Her research focuses on biological waste treatment processes, or anaerobic digestion, that can utilize microorganisms to turn organic waste into renewable energy (methane) and organic fertilizer. Eskicioglu works with emerging micropollutants, such as hormones and pharmaceuticals, and pesticides.
Eskicioglu leads the UBC Bioreactor Technology Group, which collaborates with government agencies, municipalities, industries, and researchers within UBC and other institutions with an ultimate goal of waste reduction and resource recovery. The group operates three facilities: the Advanced Anaerobic Digestion Facility; the Particle Sizing, Zeta Potential and Imaging Facility; and the Micropollutant Detection Facility.
Partnering with local municipalities and utilities, Eskicioglu explores waste-to-energy options, waste minimization, and odour-reduction solutions.
Her interest on emerging micropollutants (i.e. hormones, pharmaceuticals and personal care products, pesticides) developed while she was a graduate student at the University of Ottawa.
"Since most of the conventional wastewater treatment plans are not able to efficiently remove micropollutants, I believe that advanced treatment processes designed to target these micropollutants are urgently needed."
LOCAL & GLOBAL COLLABORATIONS
Fuelled by the Province of British Columbia's Energy Plan for reducing greenhouse emissions and meeting renewable-energy requirements by 2020, factories and cities are seeking waste-to-energy solutions. And increasingly stringent disposal regulations are catalyzing the re-thinking of waste-management strategies.
"Therefore," Eskicioglu says, "in last seven years, we have been able to develop strong partnerships with many local municipalities and utilities (e.g. City of Kelowna, the Regional District of Okanagan-Similkameen, Metro Vancouver) to explore their waste-to-energy options, waste minimization and odor reduction. For example, our research group has recently completed a bench-scale anaerobic digester testing for conversion of City of Kelowna's municipal biosolids to biogas/fertilizer, and pilot-scale testing is currently being discussed."
Similar challenges and therefore motivation exists globally as well. For this reason, UBC's Bioreactor Technology Group has been attracting many visiting scholars from other institutions in the world, including Istanbul Technical University (Turkey), IIT in India, and ENSIL in France.
Next year she will be working with the Laboratory of Environmental Biotechnology, a research unit of the National Institute for Agricultural Research in Narbonne, France, and the Group of Environmental Engineering and Microbiology (Polytechnic University of Catalonia) in Barcelona, Spain.
"These will be great opportunities to collaborate globally."