ABOUT
Name
Constance Crompton
Role
Assistant Professor
Program(s)
English and Digital Humanities
Faculty
Creative and Critical Studies
Campus
Okanagan (Kelowna, BC)
Education
PhD (Communication and Culture), York University
Hometown
Ottawa, Ont.
"I am excited to continue the humanist tradition of understanding how humans make and transmit new knowledge—from scrolls and books to markup and databases."
Researcher Constance Crompton is exploring what new data formats let us say and learn about the past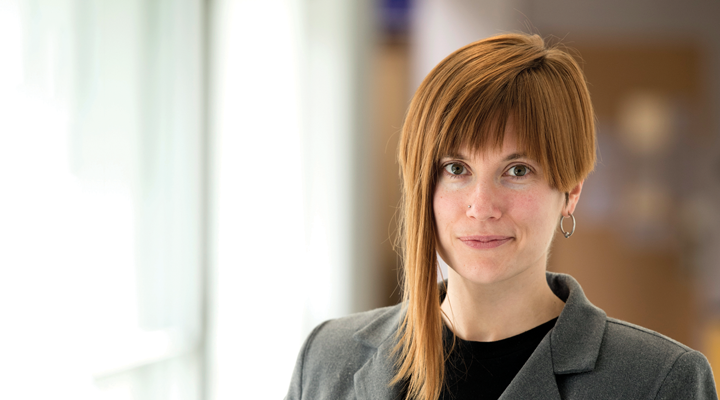 CONSTANCE CROMPTON, assistant professor of English and Digital Humanities, researches computer code as a representative medium of everyday life. Why English? She examines what this medium says about people and how we use it to express real-world information.
The technical aspect of coding was always attractive to Crompton, but taking English courses shifted her perspective, leading her to use computing methods to understand history.
A NEW WAY OF THINKING
Crompton was in her third year of a technical undergraduate degree when she took an English class "that just blew my mind," she says. The class was reading Michel Foucault on how societies create criminality.
"I realized there is this whole world of thinking that I hadn't been engaged with and that really turned me toward the topics of English and history.
"I found that working through historical questions and problems have given me tools for living. Not only has doing historical research given me great pleasure, but it has also helped me understand the world around me, and has lessened my personal frustration because I can see how we got to where we are now."
PASSION PROJECT
"Understanding history empowers us to create the future we want," adds Crompton. "Humanities research helps people to learn to think. If we know the past then we can imagine a future that is different from our present."
Pairing expertise in code with a passion in gender studies, Crompton and colleagues on the Lesbian and Gay Liberation in Canada project are building an interactive digital resource for the study of Lesbian, Gay, Bisexual and Transgender (LGBT) history in Canada. Reconfiguring information will allow users to explore the people, places, events, and publications that defined the history of gay liberation in Canada. Crompton is the Director of the UBC Okanagan portion of the project, which is housed at the The Exchange: A Humanist Data Lab and funded by the Canada Foundation for Innovation.
THINKING THROUGH MAKING
"In the Digital Humanities, we do a lot of our thinking through making. It's really exciting and challenging to oscillate between theory and building digital things. I'm not only studying the past, but I'm also studying our current moment's digital representational structures."
"I'm interested in Gay Liberation history, but I'm also interested in how, and what, databases let us say about people."
In addition to Digital Humanities and queer history, Crompton's research interests include Victorian visual and popular culture, and scholarly editing, with a special focus on modelling personhood in markup.
"I am excited to continue the humanist tradition of understanding how humans make and transmit new knowledge—from scrolls and books to markup and databases."
OUTSIDE OF THE CLASSROOM
Crompton helps students develop their own research questions by showing them how they can be problem-solvers, how they can generate new knowledge, use archival sources, and critically engage with the digital world around them. This effort is not limited to the classroom.
Recently, Crompton was a Board Member of Digital Okanagan, which is a community group for designers, technologists, and programmers in the Okanagan Valley. Digital Okanagan events show students a way they can participate in the community life in the Okanagan, especially if they're interested in digital technology and design; for example through events like design-movie nights and talks by local developers.
Crompton is also one of the founding members of Learn It Kelowna, which is a group that leads computing literacy workshops that give new users computing assistance in a friendly environment.
LIVING IN THE OKANAGAN
Coming from the hustle-bustle of Ontario, Crompton appreciates the relatively small size of Kelowna, BC and the city's natural surroundings.
"Here in the Okanagan we can quickly get out on the road and into the mountains or the forest," she says. "This is really fabulous."
"I really love Kelowna's balance of arts, culture, and cuisine—a calibre we might normally only expect to find in a larger city—with the access to nature. Who else can say that they have a beautiful clean lake at the end of their street?"