ABOUT
Name
Eric Li
Role
Assistant Professor
Program
Management
Faculty
Management
Campus
Okanagan (Kelowna, BC)
Education
PhD, Schulich School of Business (2012)
MA, Chinese University of Hong Kong (2003)
BA, Hong Kong Polytechnic University (2002)
Hometown
Hong Kong, China
"My role is to connect my research with teaching and help my students learn how to think critically and solve problems creatively."
Management professor prepares students for success at UBC's Okanagan campus and in the business world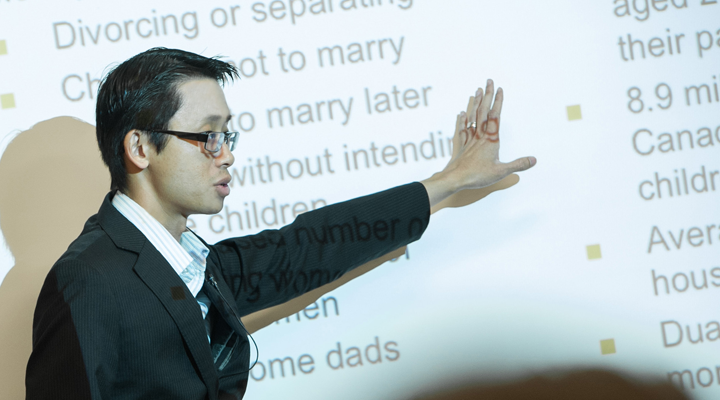 HILARIOUS. INSPIRATIONAL. ENTHUSIASTIC.
These are just a few of the accolades bestowed on Faculty of Management Assistant Professor Eric Li, an academic entrepreneur who is a proponent of experiential learning, community partnerships, and learning that is fun. Why Management?
Li's journey from undergraduate studies in Hong Kong to UBC Okanagan in Kelowna, BC began during the summer of 1999 when a professor suggested he spend his vacation researching a topic of interest.
Li chose marketing and by summer's end had a 200-page notebook filled with notes and a newfound passion for academia. Ignited by his professor, the project laid the foundation for Li's career and a future research alliance.
"I could have spent the summer playing computer games but I did this instead," he says. "Dr. Wing-sun Liu and I are now working on a research project on fashion design and cultural heritage funded by the Hong Kong Polytechnic University."
UBC OKANAGAN: THE NATURAL CHOICE
Fast forward to 2015 and Li is poised to begin his fifth year teaching undergraduate and graduate courses in marketing and qualitative research methods. He selected UBC Okanagan, he says, because it's a place where faculty members are encouraged to create new experiential learning programs, collaborate on community research projects, and join campus-wide research teams.
"I chose UBC Okanagan because it's a growing campus, where experiential learning is encouraged and I'd have the opportunity to create something new."
Li is a supporter of interdisciplinary research and projects that pair students with community groups. He and colleagues in departments of engineering, economics and political science are in the process of collaborating on a multi-disciplinary project with the City of Kelowna examining the public's perception of urban densification and neighbourhood development. He has created an experiential learning project for his undergraduate students that focusses on healthy living in BC's interior. Under his guidance, students have been involved in the research design process, as well as data collection and analysis.
He says community based projects provide students with essential experience, exposure, and community connections. They also test students' ability to apply concepts they've learned in class.
"I believe a course should be more than three months spent preparing to answer essay questions on an exam," he says. "It's more important to learn how to handle a situation and apply knowledge to different scenarios. The only way to know if you can do it is to actually do it."
BEYOND THE CLASSROOM
Li is an accessible professor who makes time for students with questions or concerns. He believes teamwork is essential and is willing to work with groups who encounter conflicts.
"Team-based experiential learning is an important learning process because it teaches people how to work together with people who may not think the same way," he says. "The best teams aren't the ones whose members have high IQs. They are the ones with the best team dynamics; the ones who develop great relationships and know how to activate one another."
LIFELONG LEARNING
Li has a master's degree in Anthropology from the Chinese University of Hong Kong and a PhD in Marketing from the Schulich School of Business at York University. During his PhD, Li was inspired by his supervisor, Prof. Russell Belk, and developed his research interest on a variety of culture-related topics. He is actively engaged in research—including work on multicultural marketing, digital marketing and consumption, public health, fashion marketing, and lifestyle consumption—but is adamant that research and teaching are equally important.
"My role is not just to write papers and share my research to my colleagues in the academic world. It's to connect my research with teaching and help my students learn how to think critically and solve problems creatively."
Li says graduation is the beginning, not the end, for students.
"Learning is a lifelong commitment and students should see themselves as part of the knowledge community and take an active role in building that community. Yes my job is teaching marketing, but it's also helping students become a whole person."
—by Anne-Rachelle McHugh