ABOUT
Name
Isaac Li
Role
Assistant Professor
Program
Chemistry
Faculty
Irving K. Barber Faculty of Science
Campus
Okanagan (Kelowna, BC)
Education
Postdoctoral Research (Biophysics), University of Illinois Urbana-Champaign
PhD (Chemistry), University of Toronto
MASc (Biomedical Engineering), University of Toronto
BASc (Engineering Science), University of Toronto
"Being able to watch and control the actions of biological molecules, one at a time, is a fascinating and fundamentally important problem."
Molecular Architect
Isaac Li, a Michael Smith Foundation scholar, is focused on developing shapeshifting molecules to study the physical interactions in diseases and developmental processes.
HAVING SPENT MOST OF HIS ADULT LIFE as a student and researcher at large universities, Isaac Li now enjoys being part of a closer-knit campus community.
Li joined UBC Okanagan's (UBCO) chemistry department in January 2016 and says he's been inspired ever since.
"Things are a bit different here," he says. "I'm teaching small undergraduate classes and have the opportunity to build mentoring relationships with some of my students," explains Li. "I'm able to provide them with career guidance and help them reach their full potential or see the world from different perspectives. I find that very fulfilling."
While Li appreciates smaller class sizes from an instructional point of view, he says they're also better for students. Find out more about Chemistry
"It improves access to professors, meaning I am available to carry out deeper science discussions with students beyond simply helping them with problem sets," says Li. "It's also much easier for students to get involved in research before graduate school to see if they like it and figure out what research direction interests them most."
UBCO offers undergraduate students a number of opportunities to pursue original research, including the Undergraduate Research Award program and Work-Study options.
"It's a level of support you don't always see at other institutions," says Li.
Though Li considers himself fortunate for the high-calibre education he received at the University of Toronto, he says his experience was very different from that of students at UBCO.
"I didn't have the same level of access to professors as students do here," explains Li. "I make an effort to learn my students' names. Not only does it help to engage them more in class, but they feel more connected to me, and that motivates them to learn better."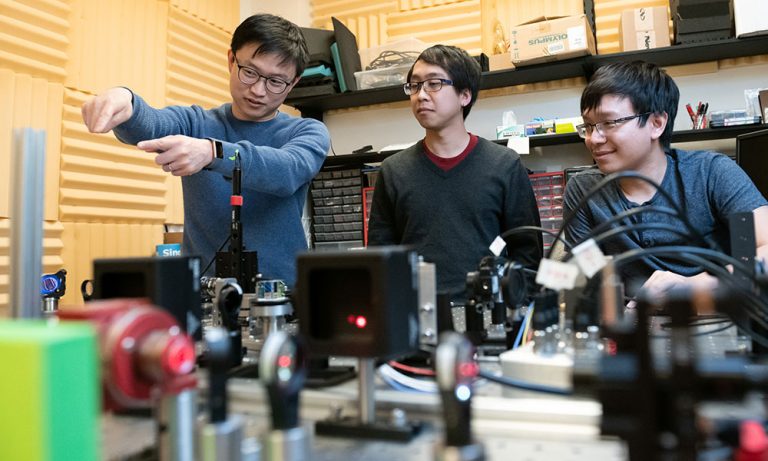 EARLIER YEARS
Originally from China, Li relocated to Toronto at the age of 15. After high school, he enrolled in Engineering Science at the University of Toronto.
"It was one of the most selective and advanced engineering programs in the world," explains Li. "I was attracted to it because I knew it would be challenging," he adds.
During the program, Li discovered his passion lay in creating designer biomolecules with novel functions using proteins and DNAs — and using them to help study disease.
Later pursuing his master's, he worked on engineering proteins that could be artificially controlled.
Li soon realized that the basic understanding of protein folding and interaction wasn't enough to guide rational design of novel protein functions, so he joined a single-molecule lab and spent the next five years digging deep into some of the most fundamental mechanisms behind the folding and interactions of large biomolecules.
"My PhD focused on examining the hydrophobic driving force within proteins and polymers that give their structure and functions," explains Li. "That research was really the beginning of my career in single-molecule studies."
Following his PhD, Li accepted a postdoctoral position in the Centre for the Physics of Living Cells at the University of Illinois' Urbana-Champaign campus. There, Li was further exposed to the biological applications of single-molecule research, blending biology with his knowledge of engineering, physics and chemistry.
"I wanted to figure out how to create and program interesting molecular devices with DNA and how to use these device sensors to understand better how diseases work."
"What I do is so interdisciplinary that there isn't a single traditional discipline that defines my work," he says, adding that many of his postdoctoral colleagues now work in physics, biochemistry, biomedical engineering and pharmaceutical sciences.
"You can work in almost any department you choose," he adds.
A CULTURE OF SHARING
Following his postdoctoral research, Li's search for a tenure-track research position was short and sweet — with UBCO being his first interview.
"I chose a career in chemistry at UBCO because of its collaborative opportunities," says Li, adding that he feels very fortunate to have landed here.
"My colleagues, particularly in chemistry, are awesome — we're a collaborative department that shares all sorts of things, including our equipment. We open our doors to discussion with everyone in chemistry and the entire campus."
As a research-intensive new faculty member, Li notes that producing quality research is not only good for growing the campus' global reputation and research output, but it's also beneficial for students.
"When students know they have a professor who deeply understands the content and works at the frontier of the subject — there's a certain level of respect and curiosity that comes with that," says Li. "I encourage my students to ask questions beyond my knowledge, and that inspires them to go explore the unknown."
Li's current research focuses on developing smart molecular devices and sensors with DNA, which can be used to study interactions between cells in the body as well as their organization and development.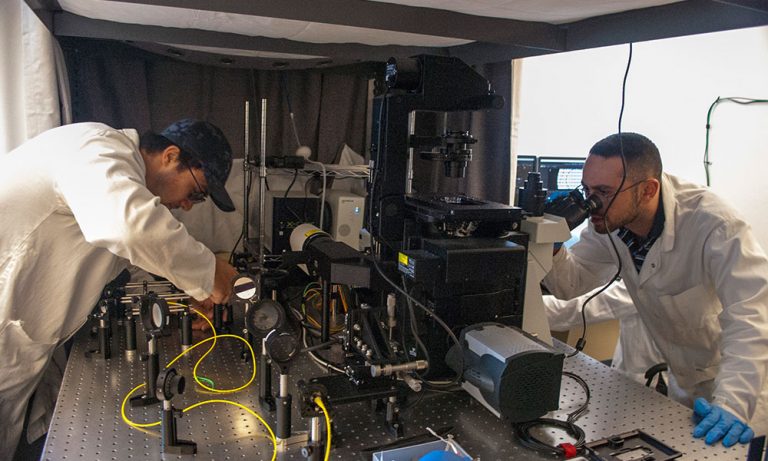 "The human body is made up of connected cells, so their interactions are important. We need to understand not only the chemical signalling between cells but also the physical interactions among them. This not only drives deeper understanding in basic biology, such as embryonic development but also helps us understand disease processes — for example, how immune cells react with blood vessels and connected tissues all comes down to physical interaction," Li explains.
For him, the end goal of his research is to better understand disease, adding that he finds the intricate nature of his work enjoyable.
"I consider my work to be a lot of fun," says Li. "Being able to watch and control the actions of biological molecules one at a time is a fascinating and fundamentally important problem," he explains.
In July 2020, Li received the Michael Smith Foundation for Health Research Scholar award, which aims to support early-career researchers to become leaders in their fields.
He also recently received a $250,000 grant from the New Frontiers in Research Fund to work on a separate — but related — project to develop a new diagnostic tool to detect early signs of disease.
"We're trying to find a way to take a liquid biopsy, like a blood sample, and find variations in an individual's molecular make-up that may put them at higher risk for a particular disease," explains Li.
"This is an interdisciplinary application that crosses different faculties on campus — chemistry, engineering and health and exercise sciences, and so far, has proved to be very fruitful," he says.
Though he spends most days in the chemistry department, Li and his colleagues are also actively involved in high-level conversations with campus leaders.
"We've had a lot of discussions with the leadership team to help identify some of the strategic directions we should take, current problems we're facing, and how to make opportunities for students even better," explains Li.
"This campus is my second home, and how it grows is important to me," he adds.
CALLING THE OKANAGAN HOME
It's been four years since Li and his wife made the move to British Columbia — and they're still ecstatic with their decision.
"The Okanagan is a great place to live," says Li. "I remember when I first arrived, being in awe of the natural beauty, and that hasn't changed."
Li credits the short commute to work and even shorter walks to the beach and trails for his easy transition back to Canada.
"I find it very inspiring here," says Li. "Sure, I love Toronto — it's a big city with nightlife, shopping and different activities. But Kelowna is situated in nature; it's a good place to focus."