ABOUT
"Making a lot of noise doesn't often change the world, but hard work, research, and reaching out to others can."
Researcher, cultural historian and digital-media scholar Jessica Stites Mor is a champion of social justice in the Global South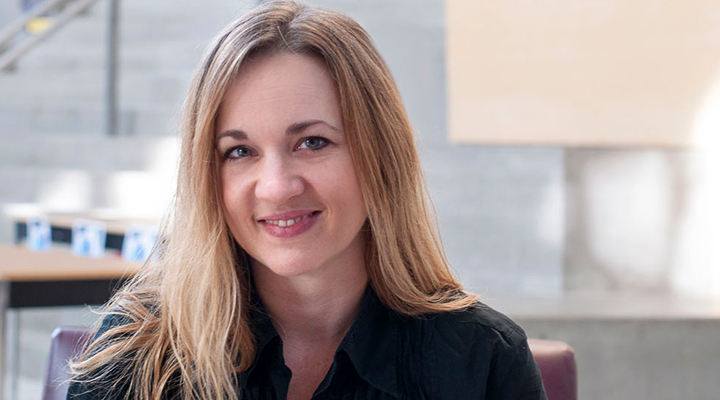 JESSICA STITES MOR has won multiple awards over the course of her academic career, but the one she cites as among the most important is a Lego trophy her kids awarded her for "best driver in the world." Why Latin American Studies?
On the surface it could seem trivial, but it speaks to Stites Mor's focus on recognizing the value and importance of all opinions and voices, even those who don't often have the means to be heard.
While a high-school student in her hometown of Olathe, a suburb of Kansas City, Stites Mor recalls a campaign to rid her school's library of LGBT materials. A handful of students, including Stites Mor, protested the move, and with the help of the American Civil Liberties Union, took their case all the way to the US Supreme Court—and won.
"It was shocking to us how knowledge could be seen as so frightful," says Stites Mor. "As students, we realized that individuals might not have a lot of power, but with careful research and the right team, we could effectively fight for social justice.
"Making a lot of noise doesn't often change the world, but hard work, research, and reaching out to others can. I wanted to work in a profession where I was able to access those pathways."
DOCUMENTING LATIN AMERICAN LIFE
Stites Mor started learning Spanish in college, and first traveled to Latin America to study abroad in Mexico during a time that the long-ruling Institutional Revolutionary Party was struggling to maintain power. She became fascinated with Latin America, its history and its politics. "You couldn't keep me away," she says.
Stites Mor went on to travel to Brazil, Argentina, Ecuador, Cuba, Chile and other countries in Central and South America.
As a doctoral candidate doing her fieldwork in Argentina, Stites Mor, who had previously worked as a photographer, started her own small production company to document and communicate the things she was studying in a different way. She used what she learned during this time to create an undergraduate digital cinema course at UBC Okanagan that teaches filmmaking skills to scholars and activists; just 20 students a year are lucky enough to get a place in the course.
"Video is such an impactful way to tell stories," says Stites Mor. "The course runs 13 weeks, and culminates with students creating a documentary short. These aren't simply YouTube videos—they are quite sophisticated, involving oral history and careful analysis.
"Digital media allows conceptual thinking that you can't always get across in print."
CONNECTING RESEARCH
Last year, Stites Mor become Editor-in-Chief of the prominent Canadian Journal of Latin American and Caribbean Studies and brought the publication to UBC Okanagan. Stites Mor manages the editorial team, which is housed in the Institute for Community Engaged Research (ICER).
"ICER is one of the most active places on campus," says Stites Mor. "It's a place where students and faculty can have an intellectual dialogue that touches on several disciplines and issues at once, such as this year's theme '(In)Securities: Bodies, polities, beliefs.'
"It's a community of scholars that people can engage to take their research to the next level."
Research is something Stites Mor has been passionate about since the beginning of her academic career. As a graduate student at Yale, she worked with political science professor Arun Agrawal on a team focused on indigenous land rights and environmental politics. Their research examined more than 200 cases and demonstrated that the more land rights an indigenous group has, the better conservationists they are. Part of their work served as the basis for research taken up by economist Elinor Ostrom, who went on to win a Nobel Prize on the subject.
"It was amazing to see the ideas we started with grow into such great work," says Stites Mor. "It inspired me to become an academic."
Stites Mor's research has grown to cover comprehensive work all over the Global South. She now works with transnational solidarity movements and examines archives and historical trends to study issues of human rights, community policing, colonial regimes and social change.
—by Deanna Roberts