ABOUT
"It's hard to leave a philosophy class without a new problem I want to solve or a new issue I want to learn more about."
As a teaching and research assistant, Philosophy undergrad Josef Zagrodney digs deep for answers and ideas relevant to criminal law, metaphysics, and the theory of knowledge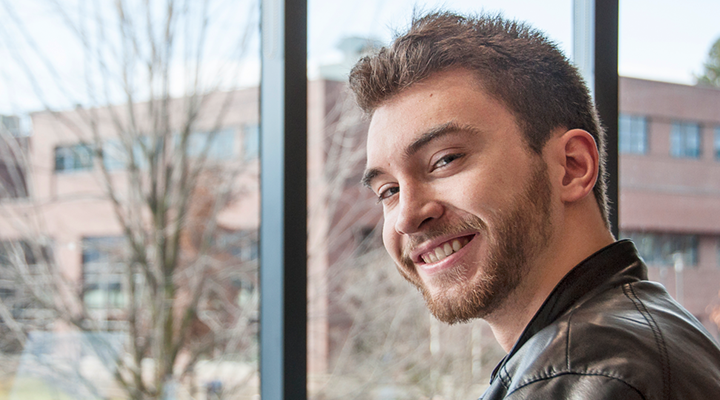 IN HIS 'SEARCH FOR THE TRUTH,' Philosophy student Josef Zagrodney has grappled with problems he initially thought to be over his head, learned how to form logical arguments and has even been executed in Tudor England—well, symbolically, at least. Why Philosophy?
"The Reformation Parliament Game in professor Ben Nilson's History of Tudor England class was a definite highlight of my UBC Okanagan experience so far," he says.
Nilson's Games in History project uses historical situations, asking students to take on the role of bygone figures to draw them into the past. This encourages students to engage with ideas, and use intellectual and academic skills, to guide decision-making.
"The class did decide to execute me, but I had it coming!" says Zagrodney.
The historical game is just one of many situations that the undergrad says enables students to creatively engage with material.
"The environment created in my upper-level philosophy classes—in which competing ideas can be freely shared and debated—allows for the exploration of big ideas that are applicable across academic disciplines and life."
WHERE EVERYBODY KNOWS YOUR NAME
Working as a Philosophy teaching assistant provides Zagrodney with another avenue for gaining a deeper understanding of course material.
"When you are grading and providing feedback, it's important to know not just what the right answer is, but why it is the right answer," he says. "This requires you to get really familiar with the material."
The opportunity for undergraduates to work as teaching assistants is one of the benefits of the intimate size of UBC's Okanagan campus: there are more chances for students to become involved.
"The UBC Okanagan campus community is compassionate, helpful and supportive of one another," says Zagrodney. "You don't get lost in the crowd here. Professors remember your name even two years after you have taken a course from them, and they still take the time to stop and ask how you're doing."
BENEFITS OF RESEARCH
Among Zagrodney's supporters is professor Holger Andreas, with whom the student now works for as a research assistant, examining problems of logic, metaphysics and epistemology.
"Working as a research assistant is extremely beneficial to the learning experience, and it also helps to ease some of the financial pressures that come with being a student," says Zagrodney.
"I have to blame professors like Dr. Jim Robinson and Dr. Andreas Holger for filling my head with ideas! It's hard to leave a philosophy class without a new problem I want to solve or a new issue I want to learn more about."
Upon completing his degree, Zagrodney plans to go to law school and start a career in criminal law as a crown prosecutor.
"I hope the reasoning skills I developed in my philosophy major, and the research skills I developed in my history minor, will serve me well in this."
—by Deanna Roberts