ABOUT
"Inability to access justice is an ever-growing problem in our society, and I want to be a part of the solution."
Constructive conversations in Philosophy and Psychology guided Julia Hung towards her burgeoning career in constitutional law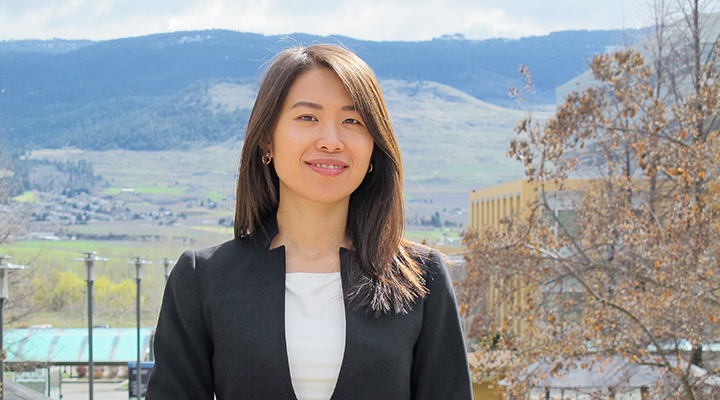 TIME CHANGES ALL OF US. But what you do with that time can shape the trajectory of your life. Why Philosophy?
For Philosophy graduate Julia Mann Chyau Hung, her professors during undergraduate studies at UBC's Okanagan campus challenged her to review the basis of her beliefs, question orthodoxy, and examine her moral framework.
The UBC alumna expresses gratitude for her former professors Manuela Ungureanu, Jim Robinson and Piotr Wrzesniewski.
"I am so grateful for their passion for teaching," she says. "They inspired me through their dedicated time outside of class, reviewing drafts of papers, providing feedback and helping me to clarify my thinking."
Hung spent hours discussing science, politics, ethics, language and the meaning of life with her professors.
These conversations—and the critical thinking and persuasive writing skills she gained through her studies—laid the foundation for law school at UBC's Vancouver campus and receiving the Okanagan Bar Association Entrance Scholarship in Law.
CRITICAL THINKING SKILLS
Hung is now an articling law student with a Vancouver criminal law firm that specializes in constitutional issues such as violations of search and seizure, arbitrary detention, and right to counsel.
Her work helps to ensure that police and prosecution do not overstep the bounds of authority.
In 2012, Hung earned her UBC Bachelor's Degree in Philosophy and Psychology. During her studies she also gained experience on campus in teaching and research assistant roles, and as a student volunteer at the Kelowna General Hospital.
"I use the broad base of knowledge and critical thinking skills I developed during my undergraduate degree every day as I review case facts, identify issues, research the law, draft arguments, and communicate with the Crown," she says.
DEFINING HER DIRECTION
Hung began her university career with a strong science background, but over the course of her first year she grew more interested in the humanities.
"Writing was not always my strength, but the philosophy classes I took in the first two years of university significantly helped to sharpen my thinking and writing abilities," she says.
"I also really enjoyed the intellectual challenges of university and especially the deep philosophical and ethical discussions I often had with my classmates and professors."
As a new lawyer, Hung is grateful for her time at UBC's Okanagan campus and the experiences that shaped the direction of her education, career and life.
"Inability to access justice is an ever-growing problem in our society, and I want to be a part of the solution.
"As a lawyer, I will be able to equip people with legal knowledge and provide a check against power in order to ensure that people's core constitutional rights are protected."
—by Deanna Roberts