ABOUT
"UBC Okanagan allows me to do the research that I want, and encourages me to see it through."
Sociologist Luis LM Aguiar lives out his two greatest passions at UBC Okanagan—football and critical sociology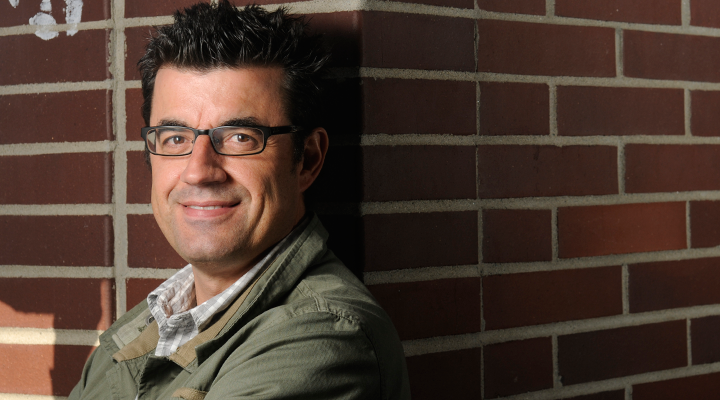 FOR LUIS LM AGUIAR, becoming a university professor was far beyond his wildest dreams. Born in the Azores and growing up in a Portuguese household in Montreal, Quebec with working-class parents, Aguiar saw himself as just an average student. "It was never by design to become a professor," he says.
Why Sociology? While studying social sciences at Concordia University, Aguiar took on a job at the sociology department's reading room in his second year. It was here where he met Julio Tresierra, a sociology professor who saw potential in Aguiar, at a time when he didn't see potential in himself.
"Tresierra believed I could go on to grad school, when I wasn't sure I believed it myself. He told me I was good enough. We developed a close relationship through sociology and became friends. Through his encouragement, I applied to the MA program at McMaster University, and got in. That was a turning point for me."

RONALDO IN THE CLASSROOM
Being Portuguese and an avid soccer player himself, Aguiar was intrigued by the media attention received by soccer superstar Cristiano Ronaldo. Aguiar developed and teaches a fourth-year sociology course to study the Ronaldo phenomenon. He says Ronaldo's appeal goes well beyond the soccer pitch: Ronaldo's social and cultural appeal transcends football, making him an interesting study.
"I'm interested in how Ronaldo has been used to construct several discourses about who he is, what makes him distinct as a footballer, what is his relationship to his hometown of Madeira, Portugal, and his Portuguese identity," says Aguiar. "The course is not a casebook study about the global popularity contest."
Students learn about the relevance of social phenomena like organized sport and the forces that create a global athlete; they also learn about identity, nationality, and representation, and discuss the phenomenon of Ronaldo across the Portuguese diaspora.
Aguiar uses a variety of media, videos, newspaper articles, websites, academic writings, pictures, and social media websites, to present this course and examine the sociological significance of Ronaldo.
"My two greatest passions are football and critical sociology. A course on Cristiano Ronaldo gives me the opportunity to combine the two," says Aguiar. "While I'm an admirer of Ronaldo, I'm also a sociologist interested in understanding the social and economic forces driving the various constructions of this athlete and what this says about our contemporary values and culture."
TREASURING THE OKANAGAN
For Aguiar, the openness and physical landscape of the Okanagan is a true treasure. His research interests are broad, covering globalization, migrant worker rights, union formation, and of course, sport. Having spent time researching in Europe, Aguiar feels fortunate to live in a city where there's ample green space to kick a soccer ball around.
"I have been able to live out my passion and conduct research locally and abroad. UBC Okanagan allows me to do the research that I want, and encourages me to see it through. I can communicate my research to students in my classroom, my graduate students, colleagues, and to the community," he says.
Aguiar says the uniqueness of the UBC Okanagan campus is its smaller class sizes. Unlike larger universities, professors are regularly available. Because of this, a level of intimacy between students and professors develops, just like the professor-student relationship he built with Julio Tresierra that has had a lasting impact on him.
—by May Li