ABOUT
Name
Mehrbod Estaki
Role
PhD student
Program
Biology
Faculty
Irving K. Barber School of Arts and Sciences
Campus
Okanagan (Kelowna, B.C.)
Education
Doctor of Philosophy, Biology (in progress)
MSc, Kinesiology (University of Western Ontario)
Hometown
Oakville, Ont.
"I wake up every morning with a smile on my face, knowing that what I do is not only important for me, but for the millions of people worldwide."
Mehrbod Estaki's academic career was inspired by personal experience with inflammatory bowel disease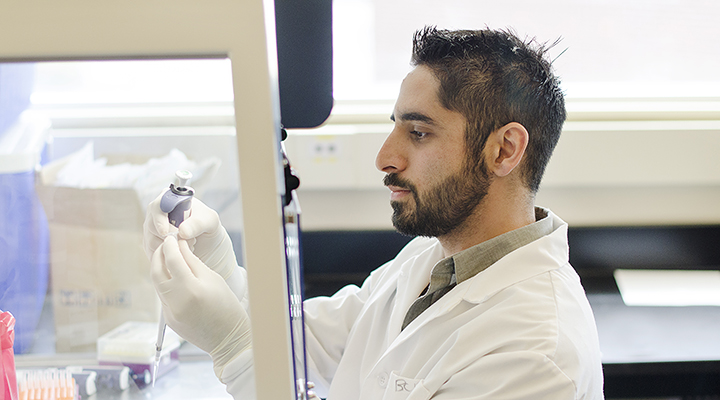 WHEN MEHRBOD ESTAKI WAS DIAGNOSED with ulcerative colitis, he took it upon himself to learn about the disease. Invested and interested, he started researching, looking for literature and examining studies. Why Biology?
He soon realized there was a gap between exercise and inflammatory bowel disease (IBD).
While exercise helps adults lose or maintain a healthy weight and helps strengthens the body's immune system, does physical activity affect people with inflammatory bowel disease? This missing connection inspired Estaki to pursue a PhD with hopes of bridging this information gap.
The human intestine is host to trillions of bacteria that play a crucial role in gut homeostasis and overall health. At UBC Okanagan, Estaki discovered researcher Deanna Gibson, whose lab investigates microbiome and inflammatory diseases.
"Professor Gibson was skeptical, but the unknowns presented us with an opportunity to take a chance and explore," says Estaki. "Our preliminary data showed us that there was in fact a link between activity and intestinal health.
"It was encouraging and set the focus of our research: determining if exercise training or habitual physical activity can protect you from instances of IBD or the severity of the disease once it develops."
MEANINGFUL RESEARCH
For Estaki, the excitement continues to grow. "I wake up every morning with a smile on my face, knowing that what I do is not only important for me, but for the millions of people worldwide that suffer from digestive disorders."
Estaki credits fellow researchers and the UBC faculty for their mentorship. "Our lab is a well-oiled machine. Every member plays a role and brings unique skills to the table. I'm grateful to conduct research that is a significant piece of the overall human health puzzle."
Recipient of the NSERC Postgraduate Scholarship, Estaki describes curiosity and ingenuity as the tools for human advancement.
"Research comes with a great sense of fulfillment as it allows one to push the boundaries of our collective knowledge and introduce novel concepts to the world. I have never been satisfied with the status quo, and so pursuing a career in academia is the only way I know to change that."
His ultimate research goal is to make the knowledge connection between host health with intestinal microbiota by means of physical activity. An example of the impact of this research is to provide scientific evidence to support legislations that improve animal health in research and agricultural settings by providing them with free access to physical activity.