Media Studies instructor Miles Thorogood helps to develop creative, culturally informed and socially engaged students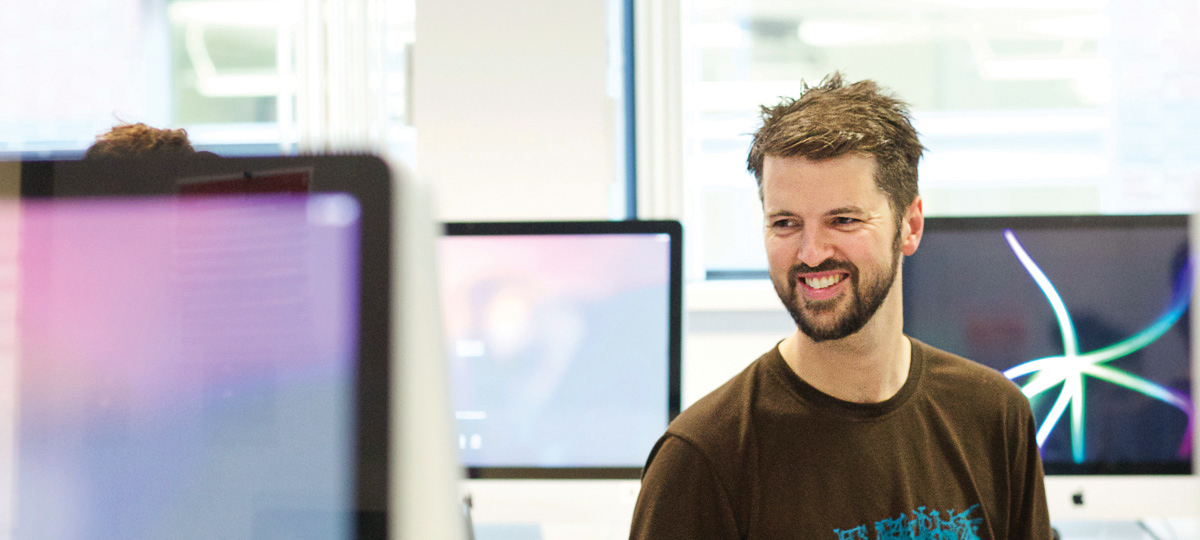 UBC WAS A PIONEER in teaching across disciplines, and today the university has more integrated first-year programs than any other Canadian university.
The new Bachelor of Media Studies (BMS) program at UBC Okanagan gives students the opportunity to combine artistic, technical and analytical skills to understand new media and the impact of technology in society. Why Media Studies?
"This multidisciplinary degree will train students to be leaders in innovation and entrepreneurship," says computer science and visual arts instructor Miles Thorogood.
"Students who have a keen interest in technology-based sciences and are open to critical thinking will develop skills for designing solutions to creative problems."
Through lab work and practical work experience, Media Studies blends practice, theory and research methodology, preparing students to navigate the emerging knowledge economy as specialists in the digital arts and digital industries.
Beyond classroom collaboration, Thorogood says students will connect with the community.
"We're partnering with technology companies and local businesses such as Disney Interactive, Bardel Entertainment, Kelowna Heritage Museum, and Accelerate Okanagan to give our students real-world and hands-on experience through Co-op."
Thorogood is enthusiastic about what's to come.
"I'm excited about it all: meeting the students, building new relationships with the business community, and connecting with organizations in Kelowna to integrate UBC and our students into a technology-driven future."
Media Studies is jointly offered by the Faculty of Creative and Critical Studies and the Irving K. Barber School of Arts and Sciences.