ABOUT
Name
Paul van Donkelaar
Role
Professor and Director, School of Health and Exercise Sciences
Program
Human Kinetics
Faculty
Faculty of Health and Social Development
Education
PhD, University of Calgary (1994)
MPE, Master of Physical Education, UBC (1990)
BPE, Bachelor of Physical Education, UBC (1987)
Campus
Okanagan (Kelowna, BC)
Hometown
Quesnel, BC
"Finding ways to improve the safety of contact sports is one key approach to mitigating the risks of concussion."
Concussion researcher Paul van Donkelaar investigates brain trauma, blood flow, injury mitigation and recovery of function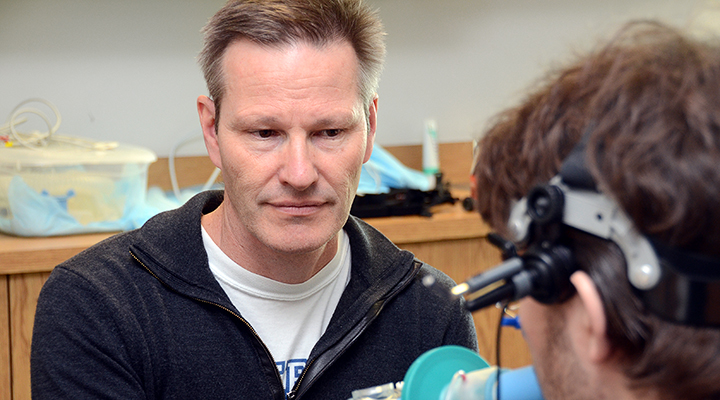 YOU GOT YOUR BELL WRUNG. You're dizzy and dazed, seeing stars. Well, shake it off and get back out there. Why Human Kinetics?
Until recently, without exaggeration, this was how athletes and coaches in contact sports such as hockey and football reacted to a "stinger"—the kind of trauma that feels like a lightning bolt to the injured area. And too often that injury was to the brain—a delicate, gelatinous organ of soft nervous tissue with 100 billion neurons, each neuron communicating with 10,000 other neurons.
"Sitting on your shoulders is the most complicated object in the known universe," theoretical physicist Michio Kaku once famously said to the surprise of almost no health scientist anywhere.
When the brain is violently jostled in the cranial fluid, the injured party may experience such symptoms as headaches, nausea, fatigue and vertigo, personality changes, sleep disturbances, memory loss, epilepsy or lasting, progressive impairment—or utter catastrophe.
Thankfully, here we are in the Information Age with the world's finest computer—the human brain—now finally examining itself with intensive research related to head care, trauma, diagnosis, consequences and recovery.
Professor Paul van Donkelaar, director of the School of Health and Exercise Sciences, is immersed in such critical matters at UBC's Okanagan campus.
TEAM EFFORT
Led by a team of students—"they're the boots on the ground," van Donkelaar says, "doing all the work"—his research group includes fellow UBC professors and scholars at Imperial College in London, UK.
They study how to mitigate concussions, how the injury affects blood flow to the brain, and how that affects neurocognitive functions such as concentration, balance and attention span. Using state-of-the-art techniques including 3-D motion analysis, eye tracking and transcranial magnetic stimulation, the researchers also seek to answer how to reduce sport-related concussions.
"We are looking at the physiological underpinnings of behavioural deficits in athletes who have suffered a mild concussion," van Donkelaar says. "This combination of physiological and behavioural measures has never been examined before in the context of concussion.
"The main goals we have in our research is to diagnose, and help athletes and coaches and parents in terms of tracking their recovery of function, and then ultimately making a better-informed and objective return-to-play or return-to-activity decision."
THE BRAIN IS WHO WE ARE
"The brain is us, it is who we are" says van Donkelaar. "Even though my research is focused on movement, it expands to include all aspects of our behaviour."
Striving to better understand how the human brain is able to plan and execute body movements, van Donkelaar works with otherwise healthy participants and patients with damaged brain structure due to a variety of injuries.
A recent study that included collegiate hockey players as subjects used myelin water imaging to measure dynamic post-injury changes to the myelin sheath in the brain: 11 of 45 test subjects sustained concussions during competition and were scanned at 72 hours, two weeks, and two months post-injury.
The UBC team, including MRI researcher Alexander Rauscher in the Faculty of Medicine at the Vancouver campus, released findings that may help to explain many of the metabolic and neurological deficits observed clinically following mild traumatic brain injuries.
Results showed a reduction in myelin changes in cerebral white matter at two weeks post-injury in several brain areas relative to preseason scans, and recovery to pre-season values by two months post-injury.
These kinds of objective assessments are the "Holy Grail" in the quest to properly—not just subjectively—diagnose concussions, says van Donkelaar.
INTERNATIONAL JOINT VENTURE
He is also developing solutions in the form of safer equipment and better ways to intervene in the event of a concussion. Through a local and international partnership, van Donkelaar is working on protective material that could lessen the impact of blows to the head, specifically in contact sports, but also with applications to medical, military, law enforcement, security and workplace protective equipment.
Helios Global Technologies is a Kelowna-based manufacturer and distributor of technologies, specializing in the convergence of technologies to enhance survivability and injury prevention. It is a joint venture partner with Armourgel, associated with Imperial College.
Armourgel is a synthetic energy-absorbing material that uses the properties of viscoelasticity—viscosity and elasticity combined into a slim, self-regenerating foam that absorbs and dissipates energy forces. The effect of this novel new material, which can be manufactured in different thicknesses, could be far-reaching—from protective bike gear and soccer head gear, to clothing for elderly people prone to falls, to more effective helmets.
"Sport-related concussion is becoming a major concern for athletes, parents, coaches, and sport associations," van Donkelaar says. "Finding ways to improve the safety of contact sports is one key approach to mitigating the risks of concussion. The development of Armourgel helmets could be a step in the right direction to making contact sports safer."
The UBC-Imperial team is now working on a prototype helmet and liner that may one day become standard safety equipment, while expanding their relationship to provide new opportunities for students from both universities.