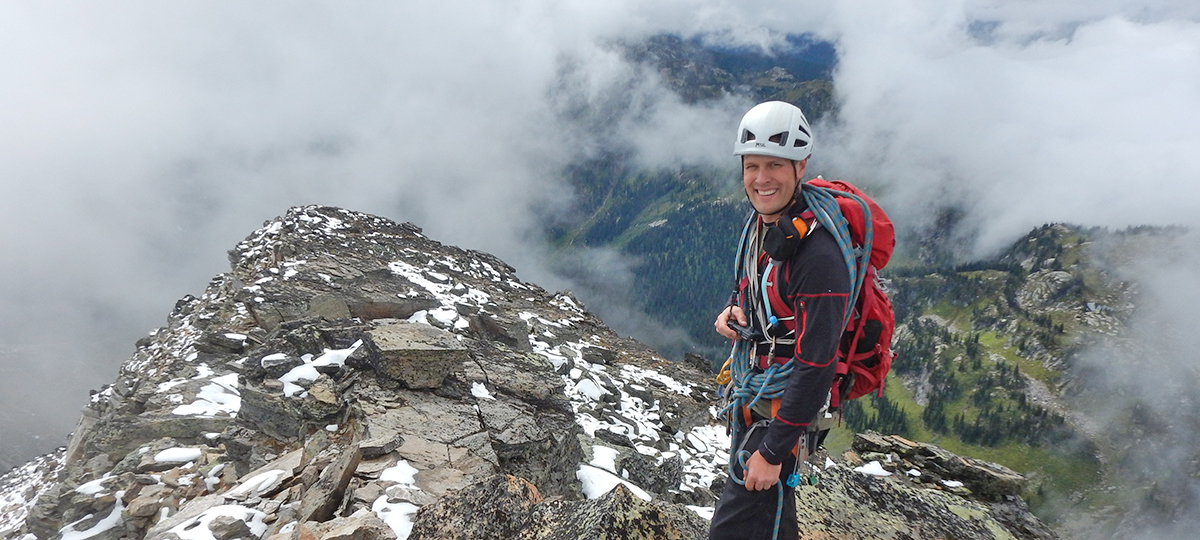 ABOUT
Name
Richard Federley
Role
Instructor
Program
Chemistry
Faculty
Irving K. Barber School of Arts and Sciences
Campus
Okanagan (Kelowna, BC)
Education
PhD, Wayne State University (Detroit, Michigan; 2011)
BSc, Lake Superior State University (Sault Ste. Marie, Michigan; 2004)
Hometown
Sault Ste. Marie, Ontario
IMAGINE TWO INDIVIDUALS LOST IN A FOREST. One person has memorized the names of many trees and can point them out. But if we asked that person what tree would be best to start a fire, make a bow, or make a healthy tea, they would be stumped.
Now imagine the other person, who has forgotten the names of each tree but is capable of recognizing that one particular tree is useful for making tinder for a fire because of its ability to form fine cotton-like fibres and readily burn. They also recognize that another tree is useful for making a bow because it has strong yet flexible wood.
Arguably, the second person would display a better working knowledge and deeper understanding, and would be more likely to adapt to, or even survive, the situation.
This analogy is akin to the teaching philosophy chemist Richard Federley applies in the classroom every day at UBC's Okanagan campus.
"I ask students to memorize as little as possible," he says. "I want them to truly understand the material and to be able to think their way through to a solution."
Federley believes that if teachers encourage students to move away from memorizing facts and instead focus on understanding, their acquired skills and concepts will be more applicable and transferrable. When students feel as though memorizing is the only way to make it through a course, he says, months later when the memorization fades concepts are also lost.
"I am here to help students learn and understand the material so that hopefully, when it comes time for them to adapt their knowledge, they will have a working understanding of principles that will allow them to be successful."
While Federley acknowledges that this sometimes requires a simplistic model or explanation in place of a technical lesson, he finds that when implementing simple analogies, he sees the eureka moment on students' faces.
"Once students are capable of understanding the big picture, then painting in details and technical aspects becomes easier. And five or 10 years down the road even, if they forget those specific details, they will still have their core understanding of the model to guide them."
As an I Am Accessible Award nominee—which recognizes and celebrates UBC faculty and staff who exemplify the qualities of an inclusive education institution—Federley lives up to the open-door policy. His students praise him for being accessible in and outside of the classroom.
Federley keeps official office hours but finds it rare for students to actually come to those set times. After all, students tend to have full schedules; they constantly juggle between classes, assignments and, in some cases, part-time work.
"Student schedules are so compact that I don't feel I should limit meeting times to just two blocks during the week," he says. "I want to meet with as many students as I can. I want them to do well and be successful."
This relationship has led Federley to develop a mutual understanding with his students.
"Students appreciate that they can stop by when it's good for them, and this way I can assist a larger number of students outside the classroom, particularly those who would not have been able to make it to official hours due to schedule conflicts."
REAL-WORLD APPLICATIONS
Student connection is not only a teaching style for Federley. It's a primary goal.
From a first-year course with hundreds of students to a third-year course of 30 students, the one-on-one treatment is something he continues to model.
"When a student comes to ask me a question," Federley says, "I like to learn something about them before I give a response. Knowing their interests helps me to tune my response and explanation towards something they know and can relate to.
"This puts the material in the context of something they are passionate about, but also has the added benefit of effectively reminding the student of the concept each time they engage in the activity they enjoy."
Federley is constantly applying different approaches and keeps an open mind to find ways to enhance the learning experience.
In partnership with Gino DiLabio, associate professor of chemistry and head of the Chemistry department, the two chemists are in their second year of piloting a project management course at UBC Okanagan. It teaches business skills such as effective communication strategies and time-management techniques to make better-rounded graduates.
"We focus a lot on communication," says Federley.
In a pre-course workshop, they conduct activities such as developing an effective elevator pitch, emphasizing that students should be able to give a well-articulated pitch about their projects in 30 seconds. The course also sees students practicing this at various levels, ranging from general to academic audiences.
"The results have been positive, and students are seeing improvements in their soft skills. Hopefully, at the end of this pilot, we'll have sufficient data to support the notion that applying project management skills to capstone, thesis and research projects has a long-term beneficial effect for both the students and the University."
OKANAGAN OPPORTUNITIES
Federley recalls when he and his wife Jannah finished graduate school. The two sat down to determine where they wanted to settle and build their careers. Kelowna was at the top of their list.
At the time there weren't ideal opportunities available, so the two planned to build up their careers while maintaining a watchful eye towards the Okanagan for a chance to make their move.
"Kelowna has a great outdoor scene," Federley says. "You can go hiking, mountain biking, kayaking, rock and ice climbing, paragliding, skiing and snowboarding. You can even go from snow activities to non-snow activities in the same day."
He's thankful that he gets to live out his passion for teaching at UBC Okanagan.
"To have the chance to work at one of the top universities in the world, and live in an area that promotes outdoor activities and adventure, is a fantastic combination."
Why Chemistry?
"I want to meet with as many students as I can. I want them to do well and be successful."
LIKE FATHER,
LIKE SON
Chemistry Instructor Richard Federley credits his father for having the biggest impact and influence on his teaching career.
"Growing up, if I asked my father how something worked, he would whip out a piece of paper and pen and start drawing, or he would use crazy analogies to describe how things worked," Federley says.
"Even in the absence of the item, he would describe it in such a simple way that visualizing the inner workings was easy. What was important was what was going on and understanding how it worked.
"I definitely see myself mimicking him in the classroom, using his approach to give a general overview focused on helping students visualize what is going on.
"Once the root mechanism is understood, then we dive into the details. I find this very effective for learning, and I hope my students feel the same."
"In the long run, I want the knowledge that students acquire to help guide them in their careers and to ultimately become successful. The jargon and technical language is very important, but understanding concepts and being able to apply and adapt them in practice is what counts."
---
CREDITS
Story by May Alsukhon
Photos courtesy of Richard
and Jannah Federley
SHARE