ABOUT
"You don't always have to say something big, but you can have an interesting perspective. You can use art as a language."
Peanut butter, charcoal on paper (2014) by Sage Sidley
Visual artist Sage Sidley uses concepts found in street art to enliven old spaces with new faces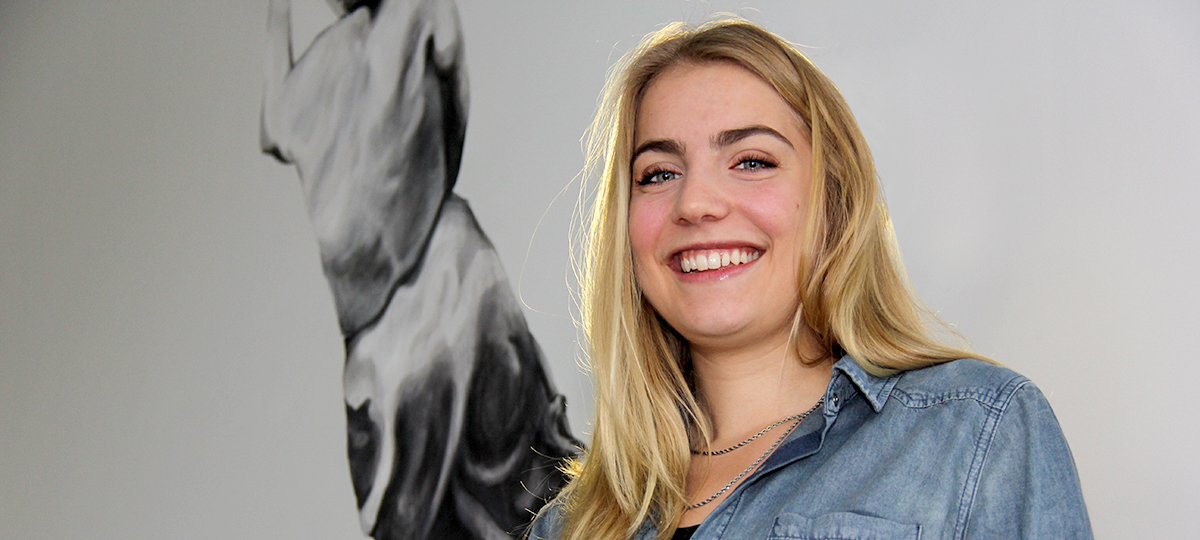 SAGE SIDLEY LOOKS BACK FONDLY on her experience as an undergraduate student who made the best of UBC studies, connections, clubs, and mentorships. With those influences, she makes bold, creative work that blurs the line between art and space.
Why Visual Arts? With a gift for showing the human spirit in small, stolen moments, she combines the themes of place, time, and memory in the context of physical locations and concepts found in street art: "Art is everywhere and for all."
But Sidley's gift for creative and critical studies was dormant until she came to UBC Okanagan to major in the Arts.
"I came into the program thinking I wasn't good enough to be an artist, but throughout my years here my outlook on that changed," she says. "I have gained confidence in being able to discuss art and look at it through a more critical perspective."
Sidley says the Visual Arts program gave her the ability to comprehend and have a better understanding of art.
"You don't always have to say something big, but you can have an interesting perspective. You can use art as a language."
She notes that the critical side of art, including theory and writing artist statements, is just as important as the creation of work.
"I came to realize how influential research into other artists or other forms of art can help inform what you are doing in relation to an individual art practice."
During Sidley's fourth year in the BFA program, Briar Craig, Associate Professor of Printmaking, Photography and Drawing, became her advisor.
Craig's encouragement and guidance (and constructive criticism) helped Sidley be bolder with the portraiture work she was creating.
"I realized that traditional drawing doesn't have to be on a piece of paper that you buy," she says. "You can draw anywhere."
So why not the gallery wall itself?
WALLS ALIVE
Sidley took photos of her subjects passively interacting in a space, then turned the images into life-sized portraits that she drew directly on gallery walls. The detailed drawings were erased when the show ended.
The method plays with the ideas of ephemerality, reality and perception of time.
"My work is about our interaction and imprint on a space, how we become part of the space and the space becomes part of us," she says. "We are only here for so long, as are our memories."
As an undergraduate student, Sidley has been been part of a number of art exhibitions and worked with professors and other artists in the program. In 2014, along with a number of fellow students, she submitted work into an exhibition in the community called "Beyond the Invisible." Held at the old fruit packing house in downtown Kelowna, it was an opportunity to interact in, and with, a space that was not a traditional gallery setting.
"It was an amazing opportunity to work outside of the classroom and still get support from our professors," says Sidley.
"Profs here push us to go outside the box. They support artistic practice for students regardless of it being part of classwork."
Sidley explains why fine art can have some street cred, too.
"Street art is a voice for all, taking ownership of one's space within a community and what the community stands for," reads her artistic statement. "All of the subjects in my drawings have spent a significant amount of time in the building, allowing the space to become a part of their identities and memories and, in turn, the space has the imprint of their presence.
"My work involves the physical adaptation of a utilitarian space and creating the perception of a wall as a malleable, imaginative space."
ART + MATH = EDUCATION
Originally thinking of enrolling in the Bachelor of Arts (BA) program with a major in Art History, Sidley quickly came around to enrolling in the Bachelor of Fine Arts (BFA) Visual Arts program. The decision came soon after talking to a recent graduate from her hometown of Rossland, BC, who championed university programming that combines both creative and critical thought: the Faculty of Creative and Critical Studies.
Sidley says UBC Okanagan is a "friendly environment" and compares it to a small town—one made better through her experiences as a Peer Mentor and in the Visual Arts Course Union (VISU), which helps support visual arts students to get funding for art practice outside of school.
She recently completed the four-year BFA program and is currently working toward completing requirements for a minor in math, which will give her a second teachable area when she's ready to pursue a degree in Education.
"I have really enjoyed learning the abstract language of mathematics alongside the cultural language of fine arts," Sidley says. "Both use such abstract methods to explain substantially complex ideas and constructs within our society."