ABOUT
Name
Stephanie Hobbis
Role
Postdoctoral Fellow
Program
Anthropology
Faculty
Irving K. Barber School of Arts and Sciences
Campus
Okanagan (Kelowna, BC)
Education
PhD, Concordia University (Montreal, Quebec) and École des Hautes Études en Sciences Sociales (Paris, France, 2016)
MA, International Christian University (Mitaka, Tokyo, 2011)
BA, University of Sussex (Falmer, Brighton, 2009)
Hometown
Donaueschingen, Germany
"I'm excited to watch my work evolve at an institution that encourages innovation."
Photos by courtesy. Copyright © Geoffrey & Stephanie Hobbis. All rights reserved.
UBC anthropologist Stephanie Hobbis studies women helping women in the South Pacific, and how digital technology is improving their lives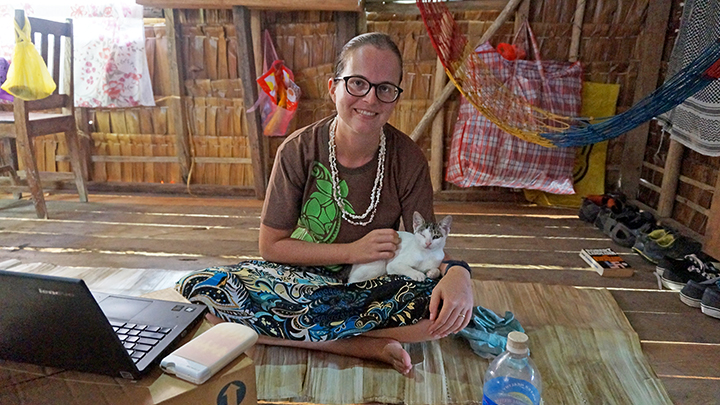 STEPHANIE HOBBIS learned to embrace the day-to-day life and work of Melanesian women as part of her fieldwork in the Solomon Islands. That work ranges from gardening and collecting firewood, to paddling upwards of four hours in a dugout canoe to sell or exchange fish at the market. Why Community, Culture and Global Studies?
Originally, Hobbis' doctoral research focused on how non-elite Solomon Islanders, who rely on slash-and-burn agriculture to meet everyday needs and who have little formal education, perceive and experience the political community in their lives.
As it tends to happen in the field, Hobbis' research organically evolved. While interacting with local women, Hobbis realized there was a need to further examine gender inequality and gender violence, and how these issues are linked to weak state structures.
Part of this realization was sparked by a national election that occurred while Hobbis was working as a researcher of the state.
"It was a great opportunity to observe and collect data because I was able to participate in all the campaign events, although, I was usually positioned with the women who were always sitting at the back," says Hobbis.
"During Q&A sessions on the campaign trail, men would actively voice their questions, and the conversation would always turn into a big, heated debate. In the rare occasion when a woman asked a question, there would be laughter in the audience, mocking the woman, as if she didn't have anything valuable to say."
Only a few days into her fieldwork, Hobbis noticed someone was in her kitchen.
"There was a young woman who appeared to be in her mid-twenties. I soon discovered she was running away from her husband and needed somewhere safe to hide."
Within a short period of time, Hobbis learned that on the Solomon Islands, a woman who is a victim of domestic violence has very limited options for medical attention, resources and support.
Outside of their family networks, there are few places women can turn to for help. Seif Ples (Safe Place) is the only comprehensive first-response service for victims of sexual and family violence.
"Seif Ples started in 2014 and is situated in the capital city. This means, unless you live in Honiara, you likely aren't able to get there, because the distances from rural areas are just too far," says Hobbis. "Consequently, the service is not easily accessible to 80 per cent of the country's population, nor does this demographic necessarily know about the service."
While the value of Seif Ples and the intentions behind it are recognized, the knowledge gap about it remains a critical issue.
Therein lies the heart of Hobbis' postdoctoral project: How do you get information out to women in need, and how do you do so in a culturally appropriate way?
CAN YOU HEAR ME NOW?
Freedom of movement is a key part of helping women in need. But it is also a big challenge for women in the South Pacific.
"There are deeply-rooted contextual barriers," Hobbis says. "Women in particular are dependent on support from their extended families. They often cannot move around freely. They have to ask male family members for permission. If not their husbands, then their brothers or father. You also cannot just move to a different place. You have to be a member of a village through genealogical ties or abandon rural lifestyles to move to the few urban areas."
In developed countries, abused women are often encouraged to build a new life in a new city. In the Solomon Islands however, this is an especially grueling process.
"In rural areas, residents grow their own food. Every day survival is based off of manual labour. If a woman moves from a rural area to an urban area, suddenly she is forced to get a job to earn money. This is especially difficult if she does not have the support from her family. Many of these women also do not have literacy skills or education necessary for employment," says Hobbis.
Part of her post-doctoral research is to figure out how these infrastructural issues may or may not be mediated through cellphones. In recent years, cellular devices have completely changed the communication landscape, especially with the use of social media. Facebook, in particular, is an incredibly important medium, Hobbis says. "It's used as a search engine to get news or to discuss politically charged issues like gendered violence."
She adds, the fastest growing industries across the Pacific are telecommunication providers. In fact, telecommunication companies work cooperatively with services such as Seif Ples, providing hotlines or toll-free numbers that operate similar to a 9-1-1 emergency service.
"The cost of going to a hospital is very high," says Hobbis. "Prior to having access to a cellphone, women would wait for hours or even days to catch a ride on a truck to seek medical attention, only to discover that the clinic was closed. Now, women can call in or text message in advance to see if a doctor is in, or ask for recommendations over the phone."
With the growing use of digital technology, the communication gap may be closing, allowing women in need to get out of difficult situations sooner.
THE SPIRIT OF WOMEN
Funded by the Social Sciences and Humanities Research Council (SSHRC), Hobbis is now at UBC's Okanagan campus working with Professor Emerita of Anthropology Naomi McPherson, who has been researching in Papua New Guinea for over 30 years.
The two are collaborating to examine the cultural legitimacies of interpersonal violence against women and also against men, and how it has transformed as a result of new economic and political developments, as well as changes in religion.
Over the next two years, Hobbis and McPherson will be joined by fellow anthropologist (and Stephanie's spouse) Geoffrey Hobbis to conduct fieldwork, interviewing a range of stakeholders throughout the rural and urban areas to learn more about gender relations. Information will be collected from different, but interconnected, perspectives.
"Having Geoffrey in the field with us makes a huge difference," Hobbis says. "There are clear gender boundaries, and often the male perspective gets lost in this kind of research. Between Naomi, Geoffrey and I, we will have access and exposure to female and male perspectives and across different age groups."
The research considers rural-urban connections and the ways in which gender identities are socially constructed—and the ways this construction has been transforming over time, possibly in response to the adoption of new technologies, such as cellphones.
"We have cast a wide net," says Hobbis, who will initially be stationed in the provincial capital of West New Britain where hospitals and NGOs are based. She will work directly with women in urban areas who may have escaped from violent husbands, and will also gather information from organizers and nurses to identify how information gets out to the public, and to what extent cellphones play a role.
According to Hobbis, this is the moment to survey and study what services are available, what the services offer, and how these services attempt to reach women in Papua New Guinea. They hope the data collected will be diverse and rich.
The impact Melanesian women have had on Hobbis gives her the inspiration to continue searching for services and solutions to help those in need.
"The women that I have met in the Solomon Islands have made a lasting impression on me. Many of them have between five to 10 children, and yet the spirit is so positive. Despite the amount of work they do, there is still lots of energy and enthusiasm.
"It's a very different life. It is not uncommon to see a woman in her mid-30s working in the garden, breastfeeding in one arm and working a hoe with the other arm with firewood strapped on her back, with two young children trailing behind her."
Hobbis plans to continue her research, building on and carrying forward McPherson's long history of work.
"Dr. McPherson has been such an incredible mentor to me, offering a wealth of knowledge. Her experience in the field and as an editor is so valuable. She's taught me how to write better, write more concisely, and how to structure arguments in my published work.
"UBC has been so supportive. I have been able to meet with other researchers across the University, which has broadened my interdisciplinary thinking," she says.
"I feel grateful to have this SSHRC-supported opportunity to further my research at the University of British Columbia, and I'm excited to watch my work evolve at an institution that encourages innovation."
–story by May Alsukhon, photos courtesy of Geoffrey & Stephanie Hobbis