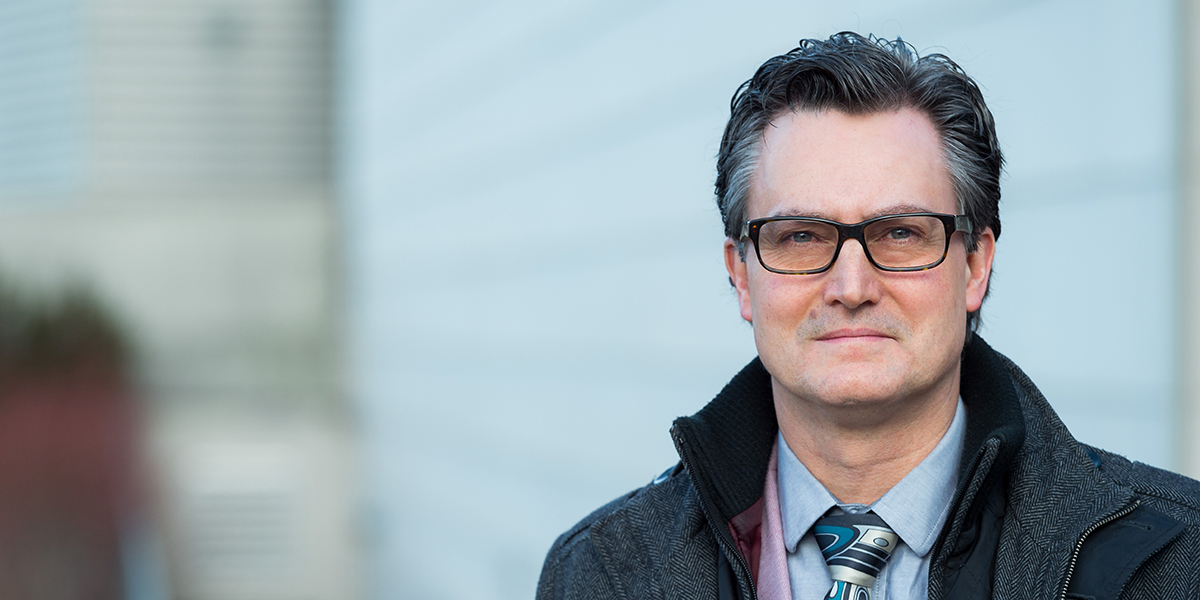 ABOUT
Name
Stephen Foster
Role
Professor
Program
Visual Arts
Faculty
Creative and Critical Studies (FCCS)
Campus
Okanagan (Kelowna, BC)
Education
MFA, Visual Arts, Media Arts and Interdisciplinary Fine Arts, York University (1993)
BFA, Visual Arts and Interdisciplinary Fine Arts, York University (1990)
Hometown
Nanaimo, BC
Throughout history, Indigenous people have been depicted as savage or primitive. Romanticized notions portray them as being "one with nature."
Prof. Stephen Foster says these kinds of misrepresentations are not just North American, they reflect an eerie worldwide stereotype.
Foster is an accomplished video and electronic media artist of mixed Haida and European background. At UBC Okanagan, he focuses his research and visual work in areas of electronic media, themes of indigenous representations, past or future, and notions of simultaneity and transformation.
"I am interested in the underlying motivations of how we make presumptions or look at the world," he says. "We often see images and take them for granted—we don't think about the context behind the images of Indigenous representations."
That context is at the core of Foster's artistic practice and research in themes of Indigenous representations.
INDIGENOUS ART… TRANSFORMED
In the annual Summer Indigenous Art Intensive, Foster brings international and national Indigenous scholars and artists together on campus to interact with students.
A professor of visual arts and digital media in Creative Studies at UBC Okanagan since 2005, Foster originally moved from Toronto to the Okanagan to teach at Okanagan University College in the Fine Arts department. In 2006, he and colleague Mike Evans (who teaches Community, Culture and Global Studies) developed the Summer Institute for Indigenous Interdisciplinary Graduate Studies, inviting scholars from around the world to share their research from an Indigenous perspective.
A recent art focus evolved into the Summer Indigenous Art Intensive. The month-long residency gathers artists, curators, writers and scholars to engage in contemporary ideas and discourse—a place for new ideas rooted in Indigenous art-making.
In the 2016 summer intensive, Foster met visiting artist David Garneau, who invited him, graduate student Jon Corbett (Métis descent), alumnus Jordan Bennett (Mi'kmaq, MFA 2015) and others rooted in Aboriginal-based knowledge, into the project "Transformer: Native Art in Light and Sound"—now on exhibit in New York.
"Transformer" is the work of 10 artists who use light, digital projection, installation and experimental media to draw viewers into a world of traditional and nontraditional indigenous experience, spanning and combining ancient artifacts and in-the-moment new media.
Garneau, the curator, formed his ideas around this exhibition through the residency at UBCO. Over the past four years, he's worked with the other visiting artists taking part in the summer intensive.
Participants in the intensive can collaborate on projects, and learn new approaches from other artist-scholars working with different media and from different perspectives.
"Transformer" is uniquely tied into the summer intensive and invited artists, Foster says.
"What we have been able to do here has really helped form and focus this type of work, which has an important impact for our former graduate students."
---
"Transformer: Native Art in Light and Sound" runs through 2018 at the National Museum of the American Indian, part of the Smithsonian Institution in New York.
---
REACHING ACROSS DISCIPLINES
Foster's installation in the exhibition, Raven Brings the Light, imitates shadow play that an adult might perform for a child on a camping trip with hands and a flashlight.
The piece references the Haida story of Raven, who brings daylight to his dark world by transforming himself into a boy and tricking his grandfather to release the light.
Foster's work about culture and narrative interprets the fable and projects it into the future.
"The use of a high-tech tent embodies this idea that in modern society we do not experience the world directly," he says. "We see it through a mediated experience, we see it through our technology, or other means. When you are in the tent, you are in darkness, when you are out of the tent you come into the light.
"Thinking about Indigenous traditions and incorporating placed-based ways of looking at an art practice changes the way we think about education in art institutions and structuring of art programs."
Foster, who is also the coordinator of the Asper Centre for Artists' Video, and director of the Centre for Indigenous Media Arts, instructs courses dedicated to video production, digital media, and visual and cultural theory.
He says the study of visual arts shouldn't always be confined to older, conventional ways of organizing fine-arts programs. Considering other areas of art production, such as eco art, Foster says, "We can be more open and reach across disciplines."
Find out more about our Visual Arts program
"We often see images and take them for granted—we don't think about the context behind the images of Indigenous representations."
---
Indigenizing Digital Practices
PhD student Jon Corbett is a professional computer programmer and sessional instructor specializing in new media art.
The doctoral student in Interdisciplinary Graduate Studies is co-supervised by professors Stephen Foster (visual arts) and Christine Schreyer (anthropology).
Corbett's video work, Four Generations (2015), is also featured in the "Transformer" exhibition at the Smithsonian's National Museum of the American Indian.
His work focuses on bridging computational art with Indigenous ways of knowing. By bringing in Métis cultural concepts of time, place, ancestral knowledge and relationships to oral histories, he's creating digital and virtual Indigenous spaces with underlying computer code.
Four Generations is a slow, spiraling motion installation using computer-generated pixels to create "beaded" images of Corbett's family and community members. A video still taken from his work was also used on Smithsonian banners and museum tickets.
"It is somewhat of a surreal experience," he says, "not just to be included, but to have my work so prominently displayed on much of the exhibition's promotion material—especially seeing my grandmother gazing majestically over the streets of Manhattan is a powerful, spectacular image. It's emotional to me because it symbolizes the greatness of her life and her heritage—not necessarily a reflection of my artistic ability."
Corbett adds that he's both humbled and pride-filled to know that he is an active participant in one of the world's greatest centre for modern and contemporary art.
"To be identified as an artist that is breaking new ground in digital media art—not just as an artist, but as an Indigenous artist—is very special to me."
Corbett completed his MFA at UBC Okanagan in 2015. His previous work has been exhibited in Italy, Bulgaria, Croatia and Japan, and in numerous Canadian exhibitions.
Currently he's working on a project called Wisak, an "Indigenous Digital Media Toolkit" that unites Cree language and First Nations cultural components with natural-language-oriented computer programming concepts. Wisak will be a human-computer interface model that gives Indigenous artists a greater opportunity to bring together traditional Indigenous art forms and media technologies.
---
CREDITS
Story by Shauna Oddleifson
"Transformer" images courtesy Stephen Foster and Jon Corbett
SHARE